SSS SOCCER TRAINING: SPEED, STRENGTH, AND SKILL
REGISTRATION FOR THE YOUNGER GROUP (5-10 YEARS OLD) IS CLOSED. Email us to be added to the waiting list.
What good is a skilled player who lacks speed and strength? And what good is a strong athlete who lacks skill? SSS Soccer training makes sure to cover all 3 of these pillars which are the main facets of the game. Work with experienced and professional players in our state-of-the-art athlete training gym and turfed area. Every session will include strength training, speed/agility training, and soccer skill work with the ball. This is the complete package—which is exactly what we turn you into!
Legends SSS Soccer has partnered with United Goalkeeping Alliance Pittsburgh's (formerly GK Icon) advanced goalkeeper training to provide coverage of the 3 main facets of the game for both field players and goalies. The partnership combines Legends' high-level skills and fitness program with United Goalkeeping's goalkeeper specific training. Building on each player's foundation using advanced training methods to improve the physical, technical, tactical, and psychological abilities needed to succeed in today's game.
Beginning November 6th, train with former professional player Stefan Lundberg, premier goalie coaches Erik Eisenhut, Nick and Matt Bisceglia, former Pitt player and former Duquesne coach Mark Sikora, and elite speed and strength trainers Nick Lundberg, Ethan Clarke and Katie Lundberg. See their bios HERE!
Each 90-minute session includes 45 minutes of strength, speed, and agility training and 45 minutes of foot skills for field players or training for goalkeepers of all abilities to get them to their next level. We test all students' strength, speed, and abilities and guide them through the essential techniques to be a successful player. We challenge every student while instilling a better understanding of the game of soccer.
WINTER SCHEDULE FROM NOV. 6TH TO MARCH 21ST:
MONDAY: 6-7:30PM 5 YEARS OLD TO 10 YEARS OLD
MONDAY: 7:30-9PM 11 YEARS OLD TO 18 YEARS OLD
THURSDAY: 6-7:30PM 5 YEARS OLD TO 10 YEARS OLD
THURSDAY: 7:30-9PM 11 YEARS OLD TO 18 YEARS OLD
**THERE WILL BE NO TRAINING THANKSGIVING, CHRISTMAS DAY AND NEW YEAR'S DAY
AGES 5-18+ WELCOME! PLAYERS WILL BE GROUPED ACCORDING TO AGE AND SKILL DEVELOPMENT.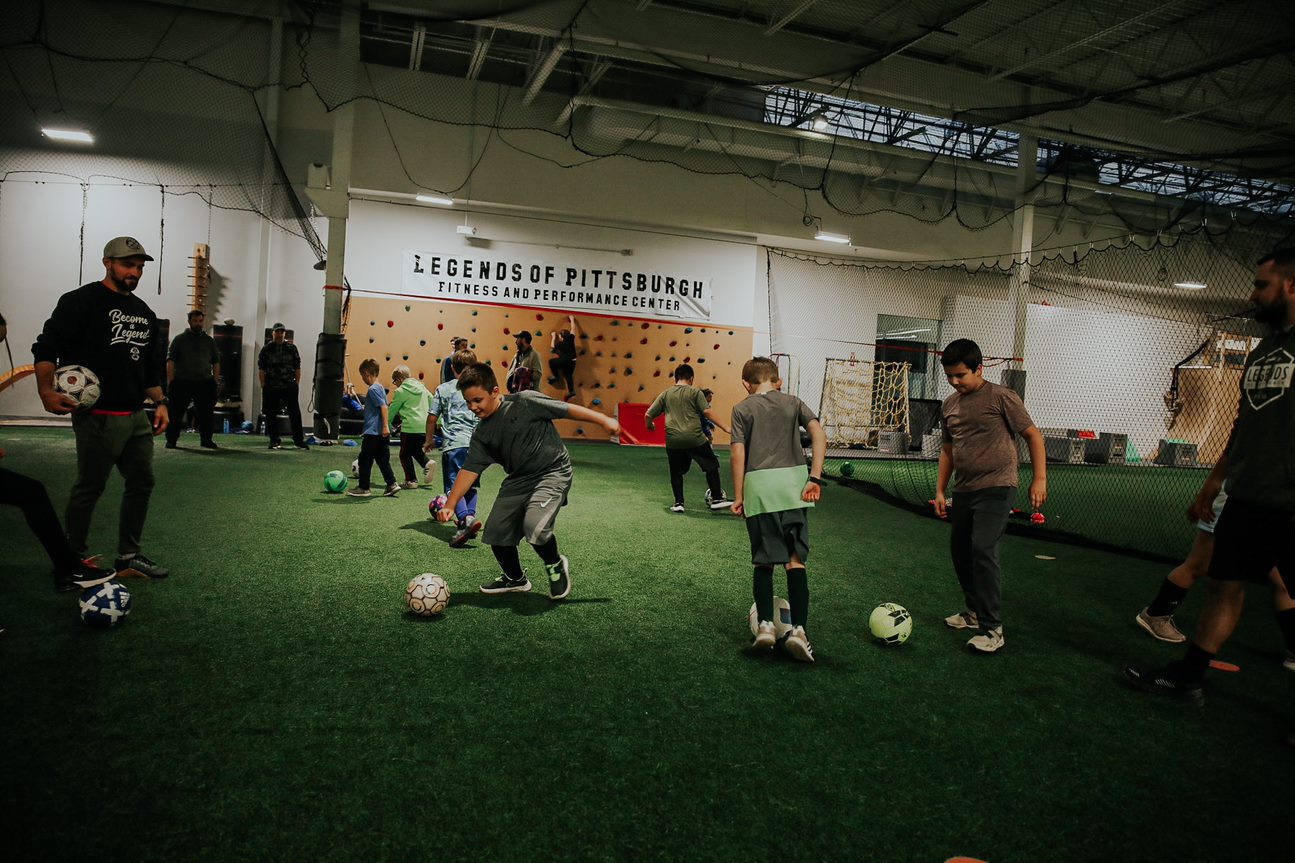 REGISTER AT THE LINK BELOW!

 Checkout with PayPal or choose the "pay with debit or credit card" option below the PayPal login. SPOTS FILL UP QUICKLY SO RESERVE ONE RIGHT AWAY. YOU CAN ALSO STOP IN DURING STAFFED HOURS OR CALL 724-895-3560 TO REGISTER! EMAIL STEFAN AT INFO@LEGENDSOFPITTSBURGHFITNESS.COM
REGISTRATION FOR THE YOUNGER GROUP (5-10 YEARS OLD) IS CLOSED. Email to be put on the waiting list.